KHS YEARBOOK PICKUP will take place on August 21st from 10 AM to 2 PM at the south gym. Popsicles and pens will be provided for signing. Tables will be set up outside the south gym. It is not too late to order. Go to kelso.wednet.edu/o/khs and click on "pay fees/fines" to order.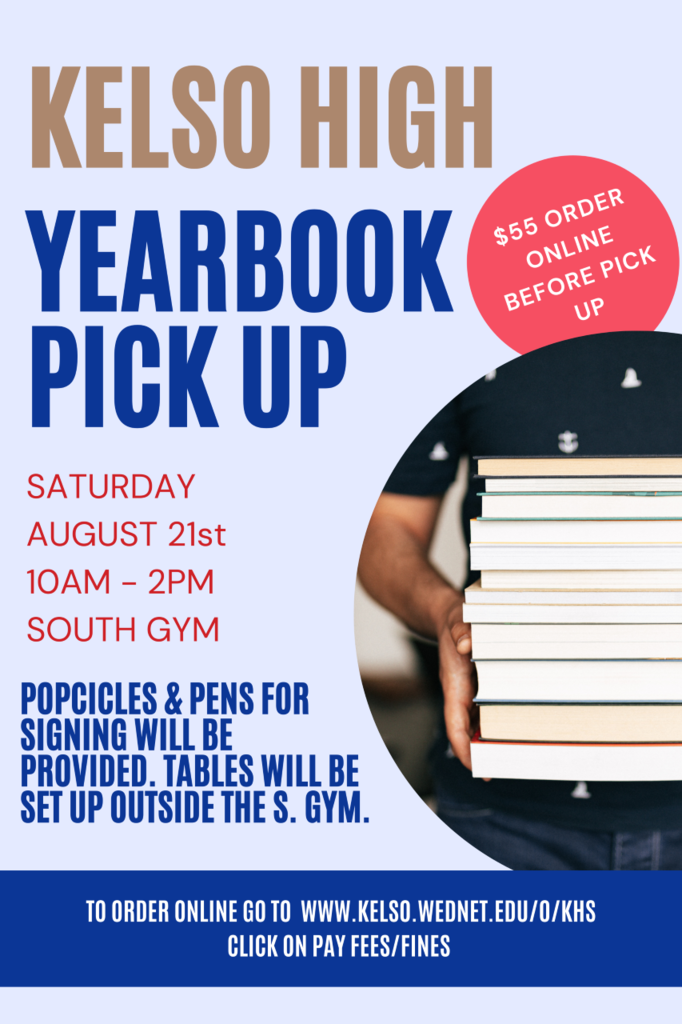 We are super excited to announce Kyle Tatro as our new boys and girls head soccer coach. Kyle comes to us with a wealth of experience and an excellent vision for both the boys and girls programs. He has spent the last 7 years as the head coach of both the boys and girls teams at Issaquah high school and is an outstanding addition to our staff. We are also excited to announce that Teresa Aloe will join Kyle as the girls assistant coach this year and Octavio Rodriguez will remain as the boys assistant. These new additions make the soccer staff a formidable team. We will be in contact soon about player and parent meetings where we can introduce the coaching staff in person.

UPDATE for 6/28/21: Afternoon summer school is canceled for TODAY. This includes French II.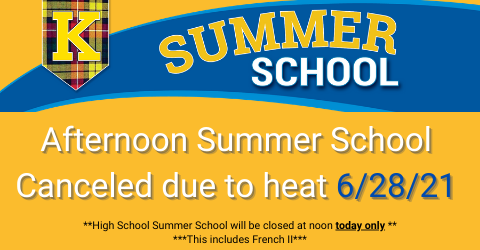 IMPORTANT: Monday, June 28th Afternoon Summer School and French 2 class is cancelled. Please continue to work on Odessy at home. Stay safe and cool. Classes will return to normal for Tuesday, June 29th.

Parents and students of Kelso High School Summer School 2021 SESSION ONE - June 21 to July 16 - if you requested bussing for your student, PLEASE CHECK THE WEBSITE AT Kelso.Wednet.edu and scroll down to the Transportation link…then scroll down to the 2021 Summer School Routes. See you tomorrow!

2021-22 sports season dates: FALL Cross County - Aug. 23 thru Nov. 6 Football - Aug. 18 thru Dec. 4 Golf (Boys) - Aug. 23 Soccer (girls) - Aug. 23 thru Nov. 20 Softball (Slow Pitch) - Aug. 23 thru Oct. 30 Swim & Dive (girls) - Aug. 23 thru Nov. 13 Volleyball - Aug 23 thru Nov 13 or 20 WINTER Basketball (boys & girls) - Nov. 15 thru Mar. 5 Bowling - Nov. 1 thru Feb. 5 Swim & Dive (boys) - Nov. 15 thru Feb. 19 Winter Guard - Nov. 15 thru Mar. 26 Wrestling (boys & girls) - Nov. 15 thru Feb. 19 SPRING Baseball - Feb. 28 thru May 28 Golf (girls) - Feb. 28 - May 25 Soccer (boys) - Feb. 28 thru May 28 Softball (Fast Pitch) - Feb. 28 thru May 28 Tennis (girls) - Feb. 28 thru May 28 Track & Field - Feb. 28 thru May 28

SPORTS PICTURES: Anyone who has not received their picture order for Winter and Spring sports may pick them up in the main office.

Want to stay in shape over the summer? Join the cross country coach daily to get your run in. Work outs will be this Thursday and Friday, June 17 and 18 at 3:00. Starting Monday, June 21, conditioning work outs will start at 8:00 am daily. Any student is welcome, you do not have to be on the cross country team. For more information, contact coach Wines:
tim.wines@yahoo.com

Instructions for Viewing the 2021 Kelso High School Commencement Ceremonies 1. Go to nfhsnetwork.com a. In the search bar at the top of the screen, search for "Kelso High School – Kelso, Washington" b. PRIOR TO THE START TIME FOR GRADUATION i. Select "FOLLOW" at the top right; if you already follow KHS at this site skip this step. ii. Complete the sign-in for FREE ACCESS to KHS events c. Scroll to "live events" or "upcoming events" i. Select "Graduation "11:00am PDT" for A through K Grad ii. Select "Graduation "2:30pm PDT" for L through Z Grad ** Note: For best results, use a browser other than Internet Explorer

Please join us at 5 PM tonight to view the Senior Scholarship Awards using the following link: 
https://www.youtube.com/watch?v=iJ-vOV4ZJpk&t=1194s
.  Please note that this link will not be live until 5 PM.  Students who receive a scholarship can pick their certificates beginning Thursday, June 10th at 10:30 AM at the High School.

Baccalaureate is a long-standing tradition at Kelso High School as an opt-in activity for students and their families.  This type of ceremony, historically, has religious/spiritual undertones and is held on the Thursday before commencement.  It is intended to provide another chance for you to reflect on your high school experience and look forward to what is ahead!  We encourage you to watch our virtual Baccelaureate ceremony on June 10th at 6:00 PM using the following link: 
https://youtu.be/zWDgFwWDgLY
and enjoy some music from members of the Kelso High School Orchestra, as well as some words of encouragement to the graduates from student speaker Patricia Johnson and guest speaker Pastor Taylor Glbreath.  Please note that the link will not be live until Thursday evening at 6:00 PM. Thank you and congratulations!

Please join us in celebrating the Class of 2021 and honor thier achievements in and out of the classroom with our Senior Awards Show, June 10th at 8:30 AM using the following link: 
https://www.youtube.com/watch?v=5MbkAn2osXo
 (Please note, this link WILL NOT be live until Thursday morning at 8:30 AM).  Students who receive awards will able to pick them at the High School beginning Thursday, June 10th at 10:30 AM.

Sports today, Wednesday, June 2: Boys Varsity Basketball @ Union 7:00; Bowling Districts @ Crosley Lanes, 9:00 am; Varsity Softball @ Skyview 4:00; Tennis @ Prairie 3:30; Track Districts @ McKenzie Stadium, Girls Varsity Basketball @ Skyview, 7:00; Varsity Baseball vs Mt View @ Kelso 4:30

Click the link below to read this month's newsletter from KHS Principal, Christine McDaniel:
https://5il.co/ma83

Fastpitch Softball today, June 1 with Camas has been cancelled. The varsity softball team will travel to Skyview tomorrow.



Sports today, Tuesday, June 1: Varsity Boys Basketball @ Heritage 7:00; Boys Swimming vs Mark Morris and RA Long @ Kelso 4:00; Varsity Softball vs Camas @ Kelso 4:00; Boys Varsity Soccer @ Skyview 7:00

Sports today Friday, May 28: Boys Basketball vs Evergreen @ Kelso, C 4:00, JV 5:30, V 7:00

Tennis today, Thursday, May 27 has been cancelled.