The Kelso Schools Transportation Department provides school bus transportation for over 2,000 students a day, twice a day, and is one of the safest forms of transportation. Our drivers must hold a valid Commercial Driver's License, Class B, with a Passenger endorsement, as well as an "S" endorsement as required for school bus drivers in the United States. The District maintains a fleet of 76 vehicles, including 49 buses and 27 support vehicles (vans, maintenance and grounds vehicles, etc.), and is held to the Washington State Patrol inspections standards twice a year.
Please contact your child's school to obtain busing information based on your route area. Specific transportation inquiries should be directed to our DISPATCH OFFICE at (360) 501-1352. Students riding the bus must be at their bus stop no later than 5 minutes prior to their pick-up time.
** HUNTINGTON SHUTTLE STOP FOR KHS WILL BE AT HUNTINGTON MIDDLE SCHOOL **
BUSES WILL START LEAVING HMS AT 7:15AM - THE LAST BUS WILL BE LEAVING AT 7:25AM
TRANSPORTATION FORMS - PARENTS/GUARDIANS
STUDENT BUS RULES & RIDER AGREEMENT
PERMISSION TO RELEASE STUDENT
WE'RE HIRING!! Kelso School District Transportation Department is always looking for Bus Drivers, whether you want to work as a Substitute or as a Bid Route Driver. We offer paid training, competitive wages and a flexible schedule. No experience necessary and a school-days work schedule!! Classes starting soon!!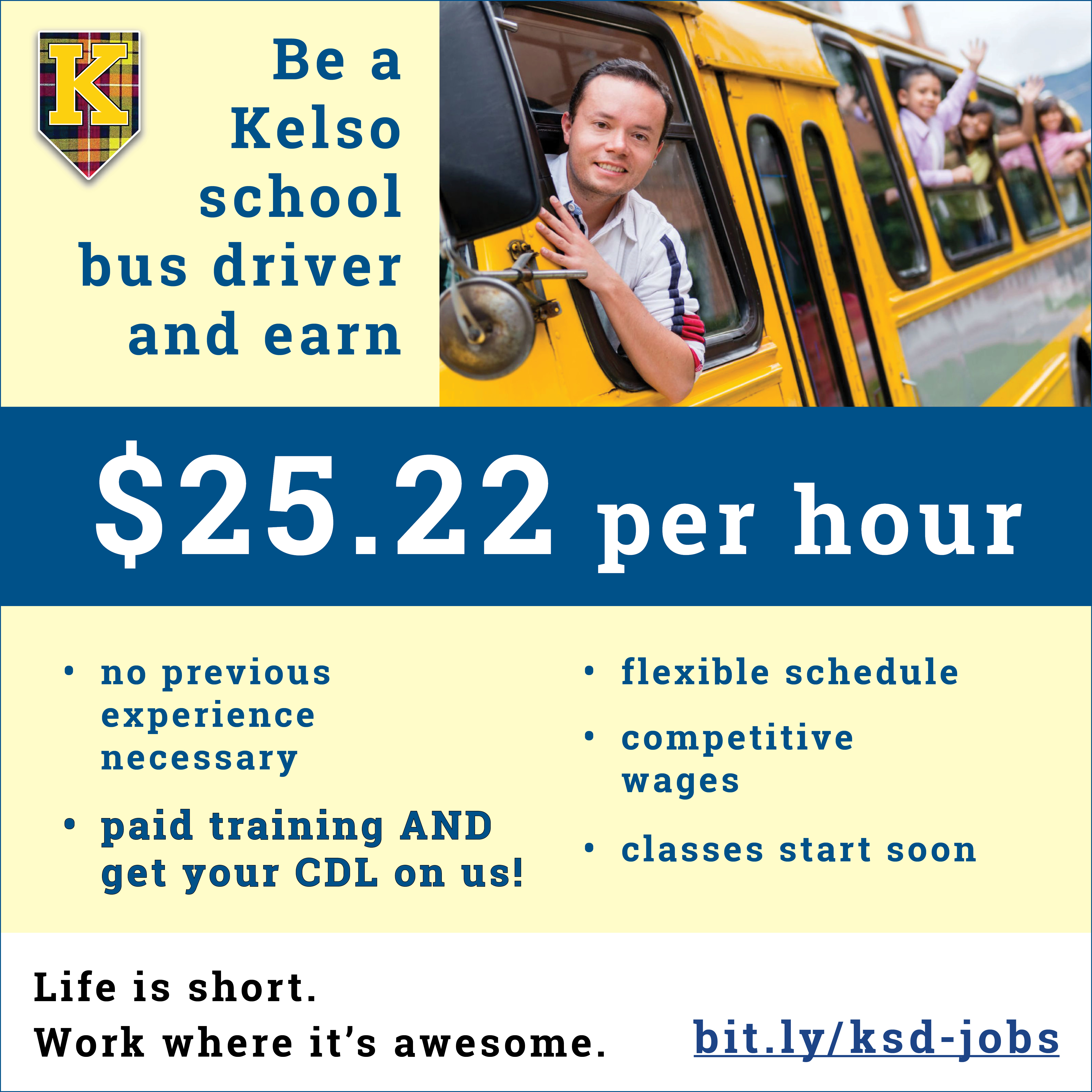 Current openings include: Bus Drivers, Paraeducators, Nutrition Services, Custodians and Maintenance. If you are interested in joining our team, click below for a complete listing of open positions available.
JOB OPENINGS - CLICK HERE TO APPLY
For Bus Driver information, click below for a CHECKLIST of items needed to complete your application. If you have questions, please contact our Dispatch Office at (360) 501-1352. To apply, click on the above JOB OPENINGS link to start the process.
SUB BUS DRIVER APPLICATION CHECKLIST
The decision to delay the opening of school, dismiss early or close school for the day due to weather conditions is never an easy one. Our priority is the safety of the children and staff.
Any decision to delay opening, dismiss early or close must begin early. Our Transportation Supervisor is out checking road conditions sometimes as early as 3:00 a.m. to determine the safety of transporting students. After consulting weather reports and checking road conditions, the Transportation Supervisor consults with the Superintendent, and any decision to delay or close school is made around 5:30 a.m.
If there is a delayed opening but weather conditions continue to be a problem, the district will determine whether to delay further or to close school. Decisions to delay, dismiss early or close are not taken lightly. We want the children of the district to have uninterrupted and continuous instruction.
Announcements are posted on the main District web page, and are also made via television, radio, FlashAlert, and various social media (see Inclement Weather Plan below). In the event that internet is not available, we also update our District Information Line at 360-501-1990 each morning and afternoon with closures, delays and buses that are on snow routes (see list below).
We are sensitive to the inconvenience to parents who must make arrangements for their children if school is delayed, dismissed early or closed but safety must take precedence over all other considerations.