In the event of changes in school routines or schedules due to weather related or other emergencies, Kelso School District works closely with the Kelso Police Department, Cowlitz County Sheriff's Department and Department of Emergency Services to ensure the safety of all students.
Emergency late starts, early dismissals, sheltering-in-place and evacuations are announced on local radio stations, the district telephone information line, the Family Access Message Center, the Internet, and through a service called FlashAlert.
Although we do make information available to Portland television stations, they limit the amount of detail we can publish. For more detailed information, please listen to our local radio stations:
KLOG 1490 AM
KEDO 1400 AM
KBAM 1270 AM
Rocket 107 FM
Magic 105 FM
We are available on Facebook, Twitter and Instagram
We will email and text through information in Skwyard in case of an alternate start.
FAMILY ACCESS MESSAGE CENTER
FLASH ALERT NOTIFICATION SYSTEM
Patrons subscribed to FlashAlert can receive both emergency reports and non-emergency news releases from Kelso School District by email or as cell phone text messages. To subscribe to this service (at no cost to you) or update an existing subscription, click the subscribe link below.
Subscribe to Flash Alert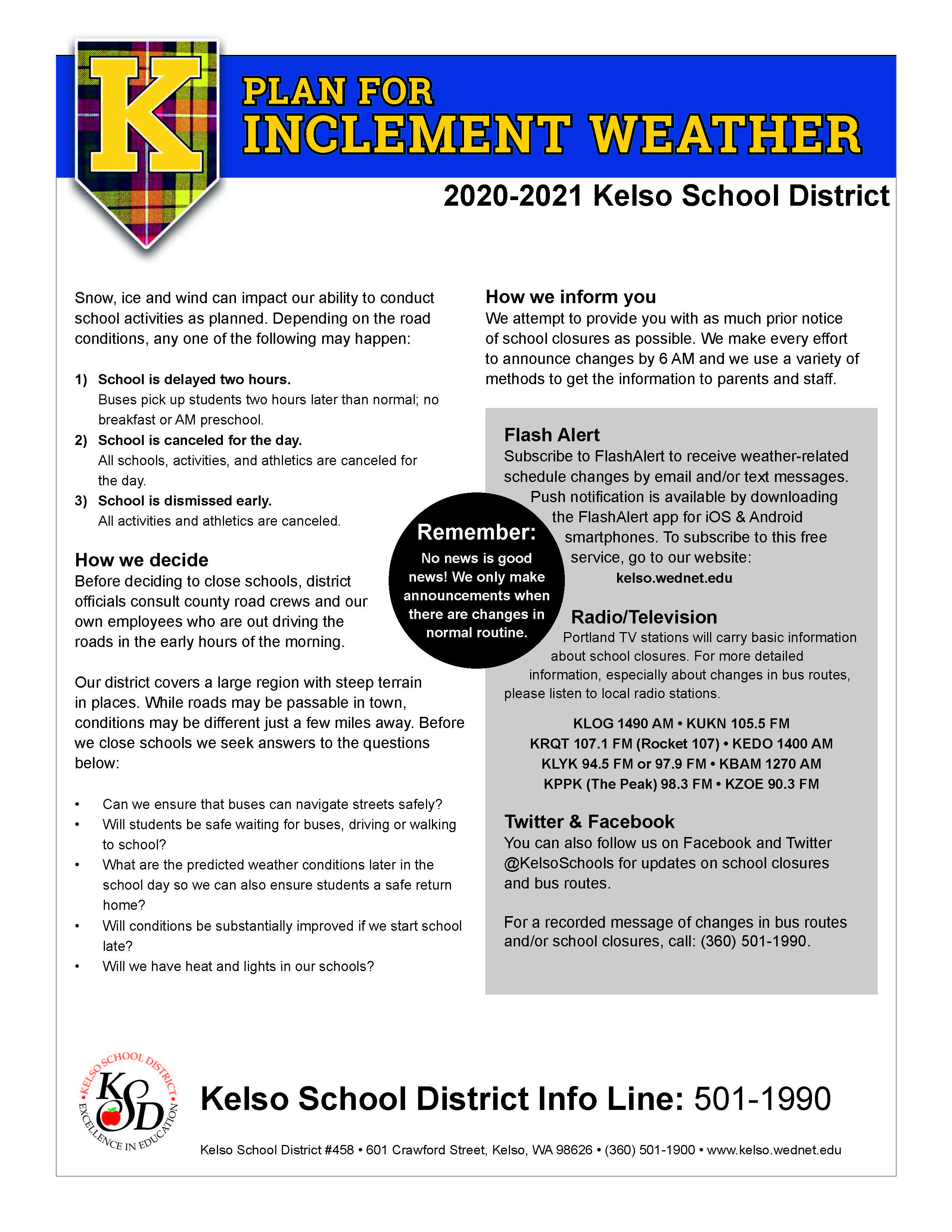 Plan for Inclement Weather (Accessible)
Snow, ice and wind can impact our ability to conduct school activities as planned. Depending on the road conditions, any one of the following may happen:
1) School is delayed two hours.
Buses pick up students two hours later than normal; no breakfast or AM preschool.
2) School is canceled for the day.
All schools, activities, and athletics are canceled for the day.
3) School is dismissed early.
How we inform you:
We attempt to provide you with as much prior notice of school closures as possible. We make every effort to announce changes by 6 AM and we use a variety of methods to get the information to parents and staff.
Flash Alert:
Subscribe to FlashAlert to receive weather-related schedule changes by email and/or text messages.
Push notification is available by downloading
All activities and athletics are canceled.
How we decide:
Before deciding to close schools, district officials consult county road crews and our own employees who are out driving the roads in the early hours of the morning.
Remember:
No news is good news! We only make announcements when there are changes in normal routine.
the FlashAlert app for iOS & Android smartphones. To subscribe to this free service, go to our website: kelso.wednet.edu
Radio/Television:
Portland TV stations will carry basic information about school closures. For more detailed
Our district covers a large region with steep terrain in places. While roads may be passable in town,
conditions may be different just a few miles away. Before we close schools we seek answers to the questions below:
• Can we ensure that buses can navigate streets safely?
• Will students be safe waiting for buses, driving or walking to school?
• What are the predicted weather conditions later in the school day so we can also ensure students a safe return home?
• Will conditions be substantially improved if we start school late?
• Will we have heat and lights in our schools?
information, especially about changes in bus routes, please listen to local radio stations.
KLOG 1490 AM • KUKN 105.5 FM KRQT 107.1 FM (Rocket 107) • KEDO 1400 AM
KLYK 94.5 FM or 97.9 FM • KBAM 1270 AM KPPK (The Peak) 98.3 FM • KZOE 90.3 FM
Twitter & Facebook
You can also follow us on Facebook and Twitter @KelsoSchools for updates on school closures and bus routes.
For a recorded message of changes in bus routes and/or school closures, call: (360) 501-1990.