School districts have two separate funding sources, bonds and levies, which are specifically designated for different educational purposes. Bonds build buildings and levies are for learning expenditures.
The local replacement levy is used to restore, sustain, and enhance curriculum, technology, staffing, and other program costs that the state does not fund.
10 Facts Every Kelso Citizen Should Know About the Upcoming Levy…
This is a replacement levy. It replaces the current levy that expires at the end of 2020. It is not a new tax. It will continue funding of basic education programs and services for the years 2021-2024.

These levy dollars are used for essential educational programs, maintenance, and general district operations not funded by the state or federal government. This levy will restore, sustain, and enhance the district's educational programs.

The levy will not be used to build new school buildings. This levy is not a bond. Bonds build buildings, and levies are for learning.

Ballots will be mailed on or around January 24, 2020. They must be returned to a ballot drop-box or postmarked by February 11, 2020.

Over 50 percent of voters must vote "yes" for the levy measure to pass.

The School Board authorized a four-year levy to replace the expiring two-year levy. They believe this approach will be best for the Kelso community for long-term stability and rates.

The tax rates and total amount of the levy are listed below.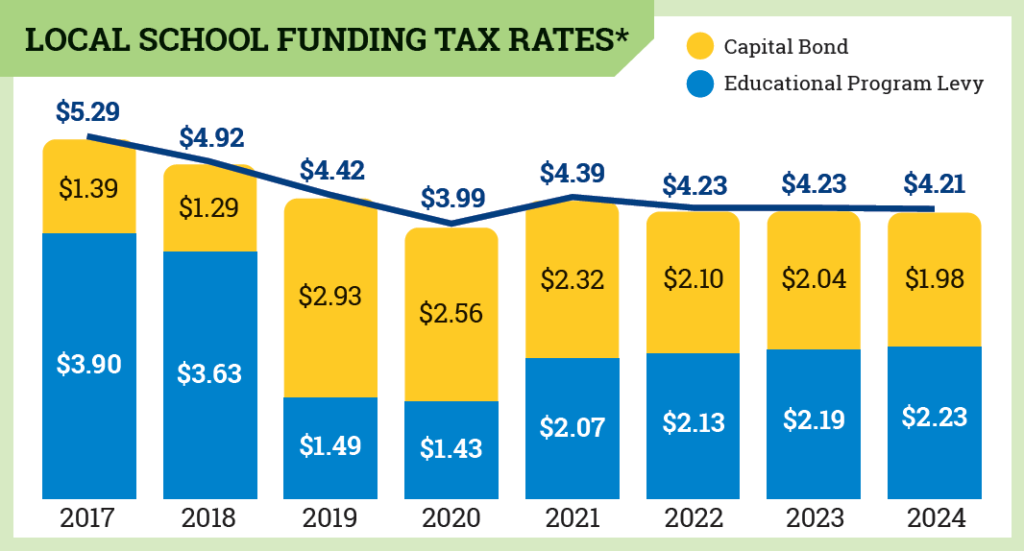 *per $1,000 assessed value, future rates are estimates
Passage of the local levy provides an additional $4 million dollars in Local Effort Assistance to Kelso School District from the State of Washington. Receiving these state funds is contingent upon the local levy passing.

Schools built on a solid foundation where quality student learning is taking place contribute to a thriving and prosperous community, protecting your home and property investment. Even if you don't have children in the schools, this issue is important to you because when the quality of schools increases, the quality of the community increases.

Levy dollars are used to pay for staff, programs, services, and materials not fully funded by the state. This levy, if passed, will:
Maintenance of grounds, facilities, and playfields

Supports for at-risk students
Student safety: counselors, health professionals, school resource officers (SROs)

Smaller class sizes

Special education teachers and paraprofessionals

Robust fine arts & music programs

Extracurricular & co-curricular activities, clubs, and athletics
Counseling & mental health supports

Early learning & academic achievement

STEM related training & student opportunities

Career exploration & opportunities

Technology & instructional materials