For a comprehensive guide to graduation pathways and options, please see the Graduation Pathways Toolkit provided by the Office of Superintendent of Public Instruction (OSPI).
Overview:
Graduation requirements consist of:
Completing required courses with a passing grade (grade of D or above OR "Pass")

Demonstrate Competency in English and Math

Washington State History

High School and Beyond Plan

Culminating Project
Required Courses: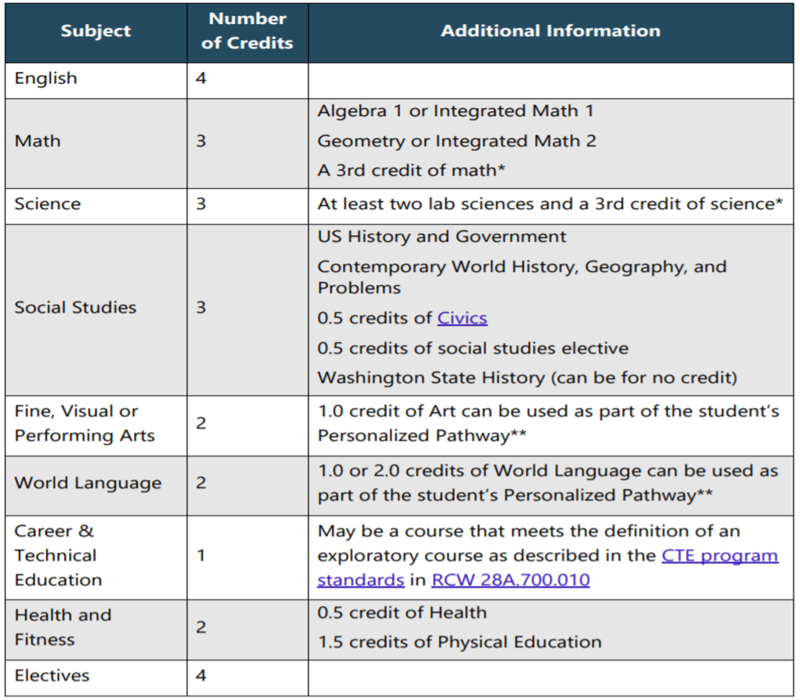 Total required credits: 24*
*Students who earn 24 credits will be eligible to participate in the Loowit graduation ceremony. Students who wish to participate in the Kelso High School graduation ceremony must complete an additional 2 credits (.5 Physical Education + 1.5 Electives)
**Personalized Pathway: Students who DO NOT plan to go to college may work with Dr. Baros and their counselor to develop a "Personal Pathway" to replace the 4 credits in the "Fine Arts" and "World Language requirements. These courses must relate to and prepare students to enter one specific field of work.
Additional Requirements:
Demonstrate Competency in English and Math via one of the State-Approved Pathways (For more information on pathways, please visit the Washington State Board of Education information page.)
Pass Washington State History (if not completed in middle school)
High School and Beyond Plan (course planner, career and college exploration)
Culminating Project (Community service, Presentation, and Interview)