LOCAL AREA SCHOOL MEAL SERVICES
Living outside of Kelso? You can find meals for youth 18 and under here:
COMMUNITY FOOD PANTRIES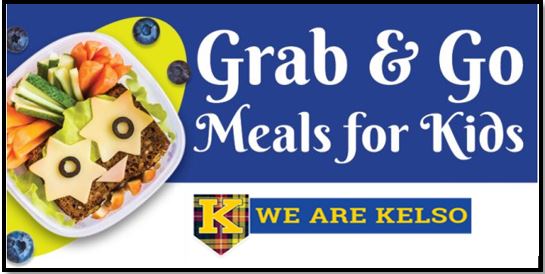 FREE GRAB & GO MEALS FOR ANYONE 18 OR YOUNGER
Served Monday – Friday
March 19, 2020 – June 30, 2020
No Meal Service on May 25th - Memorial Day
Breakfast and lunch will be together in a single bag. Please call 360-501-1807 with questions.
Beacon Hill Elementary – 10:30 AM – 11:30 AM
Pick up under covered drop off area
Carrolls Elementary – 11:15 AM – 11:45 AM
Pick up in school parking lot
Catlin Elementary – 10:30 AM – 11:30 AM
Pick up at main entrance
District Office – 12:00 PM – 12:15 PM
Pick up at main entrance
Rose Valley Elementary – 10:30 AM – 11:00 AM
Pick up in lower parking lot
Wallace Elementary – 10:30 AM – 11:30 AM
Pick up at main entrance
Huntington Middle School – 10:30 AM – 11:30 AM
Pick up outside cafeteria entrance
Kelso High School – 10:30 AM – 11:30 AM
Pick up in back parking lot
BEACON HILL/LEXINTON STOPS
65 Alpha Drive - 9:40 AM - 9:55 AM
Corner of Adams Dr. & Pelican Dr. – 10:00 AM – 10:15 AM

Corner of Vermillion Rd. & Penny Lane – 10:25 AM – 10:40 AM

Corner of Ponderosa Dr. & Ventura Dr. – 10:45 AM – 11:00 AM

Corner of Cowlitz Dr. & Decatur Dr. – 11:10 AM – 11:25 AM

Country run Apartments – 11:30 AM – 11:45 AM
Parking lot on Solomon Rd.

West Haven Mobile Home Park – 11:50 AM – 12:05 PM