EDIT MAIN

Kelso School District convened a Reopening Task Force in May 2020 to develop recommendations for a fall model that fits Kelso students, families, and staff based on data, feedback, and state agency requirements.
The Governor's expectations, OSPI recommendations, and guidelines from the Department of Health (DoH) and Labor and Industry (L&I) as well as input from staff, families, and students guides the task force conversations.
Updates to Staff and Families
August 4, 2020: An updated timeline released to staff and families:
We are getting closer to finalizing our plan for starting school this fall and want to update you on the timeline:
August 6 – Reopening Task Force Committee Meeting
August 7 – School Board Reopening Work Session, 4:00 pm
August 10 – Final Plan Seeks Approval from School Board, 5:00 pm
August 10 – Final Roadmap to Reopening Plan Released to Staff and Families, Post Board Approval
This complex process is being worked with the greatest of care, intention, and concern for the health and well-being of our staff and students. Thank you for your patience and understanding as we reimagine education during COVID-19.
July 31, 2020: A revised draft fall reopening plan (below) that includes two options for returning to school was released to staff and families. Read the letter here.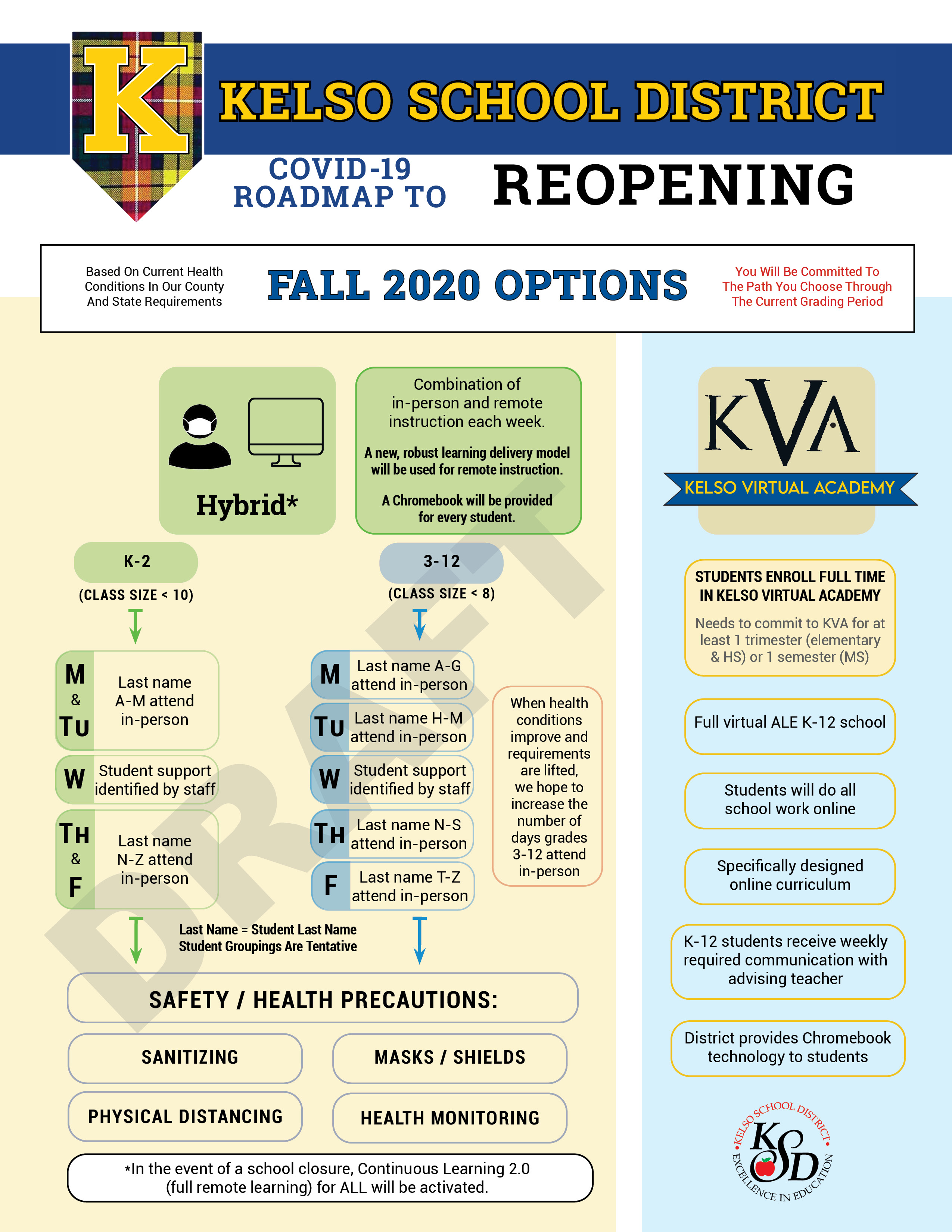 June 17, 2020: A draft plan was released to staff and families based on efforts from the district task force and survey feedback. Read the letter here.
RESOURCES
The Office of the Superintendent of Public Instruction (OSPI)
OSPI released a planning guide for school re-entry on June 11. The guidelines instruct school districts to simultaneously plan for a full reopening as well as a contingency approach while prioritizing students furthest from educational justice and following safety guidance from public health agencies.
Centers for Disease Control and Prevention (CDC)
The CDC has health guidelines and considerations for schools here.