2016/17 FACILITY IMPROVEMENT PLANNING PROCESS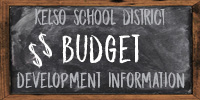 The following documents have been created to summarize the components of the Facility Plan recommended to the School Board. The School Board will make a decision in late November/early December whether to modify the plan and/or seek a bond measure in the February 2018 election. If you have specific questions about the proposal, please email facility.input@kelsosd.org, or see documents below under 'Facility Improvement Team Documents' heading.
Click on the links below for information
THOUGHT EXCHANGE – COMMUNITY & STAFF FACILITY ENGAGEMENT PROCESS

The second Thoughtexchange process will begin on October 9th, 2017. This will provide community and staff an opportunity to comment on the Long-Term Facility Plan recommended to the Board on September 5, 2017 by the Facility Improvement Team (FIT). Feedback will be used to provide guidance to the Board on finalizing and approving the Long-Term Facility Plan. Approval of the Long-Term Facility Plan could result in a bond measure to the voters in early 2018.
For more information and to be included in the process, click on this link, KelsoSDSignup.
The first Thoughtexchange process (Feb/Mar 2017) is now available for public review. To see the results of our community and staff survey, please visit our Discover website in both English and Spanish at this link
FACILITY IMPROVEMENT TEAM (FIT) MEETINGS
FIT Meetings: January 31, February 21, March 6 and 21, April 11 (Kelso High Library), May 2 (cancelled) and May 23, June 13, June 27, and August 8, 2017.
Board of Director updates/workshops on Facility Improvement Team work will occur on July 10, 2017, and August 29, 2017.
All meetings will begin at 4 p.m. and are held in the Board Room at District Office unless otherwise noted.
FACILITY IMPROVEMENT TEAM DOCUMENTS
HOW CONSTRUCTION FUNDING WORKS IN WA STATE
IMPORTANT MESSAGE FROM SUPERINTENDENT GELBRICH