TRANSPORTATION MANAGEMENT PLAN

As we prepare to open Lexington Elementary School next fall, we are committed to working in partnership with the school community to ensure safe trips to and from school every day. As a part of this effort, we have created this Transportation Management Plan (TMP) to minimize potential transportation issues during student arrival, dismissal, and occasional events at school.
This TMP is intended to foster awareness and provide specific guidance to this school community, with a focus on safety, reducing traffic congestion, and minimizing parking issues that could affect the surrounding neighborhood. The seven major elements of the plan describe:
1. Transportation Options
2. Guidelines for Walking and Biking to and From School
3. Guidelines for Taking the School Bus
4. Guidelines for Arriving or Leaving in Cars
5. Guidelines for Special Events on Campus
6. Guidelines for Employee Parking
7. Communications
The following sections will provide an orientation to the school site, information about travel to and from school using the travel mode options available, and key points from the TMP intended to ensure safety, minimize congestion, and create a neighborly environment for everyone in the school community.
GETTING TO AND FROM SCHOOL
Several options are available to the school community as they choose how to travel to and from the school every day. This section briefly introduces the options within the plan, as well as the recommendations and guidelines for each one. Whether someone walks, rides a bike, takes the bus, or drives, it is important for our whole community's safety and well-being that everyone follows the recommendations in the TMP for their travel choices.banner
School bus transportation significantly reduces the number of family vehicles accessing the school site during arrival and dismissal and is available to students who live outside the walk area or who meet other special qualifications. At the new Lexington Elementary School, buses will have a dedicated entrance, exit, and a recommended travel route that is separate from the recommended route for family vehicles.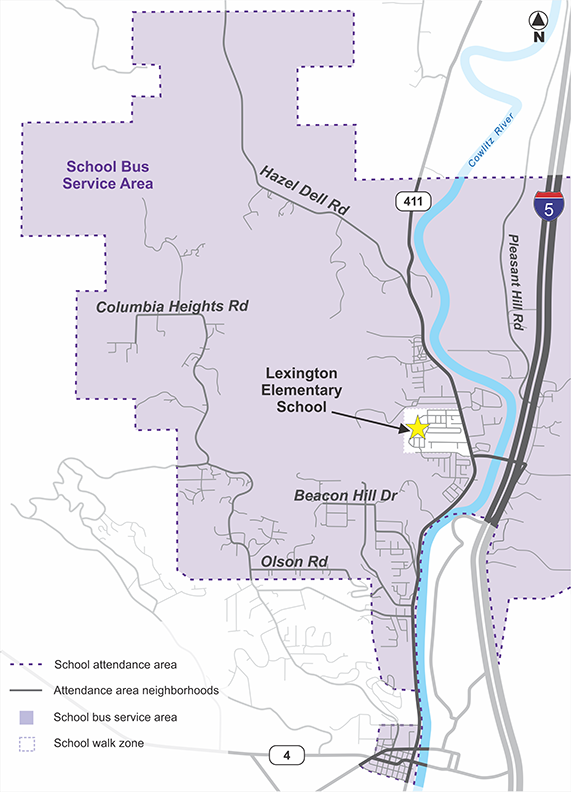 Lexington Elementary School's designated walk area and local safety features are shown in the image below. For students who are comfortable and able, walking to school is a way to exercise, enjoy the neighborhood, and teach safe walking habits. Families can also avoid any stress and frustration of driving, parking, and school traffic congestion, all while helping the environment by reducing vehicle emissions.
The TMP includes these guidelines for walking to school:
• Stay on sidewalks.
• Cross streets at stop signs.
• Access the school site by crossing at the Leif Drive crosswalk ONLY.
• Resource: Walking School Bus [www.walkingschoolbus.org/]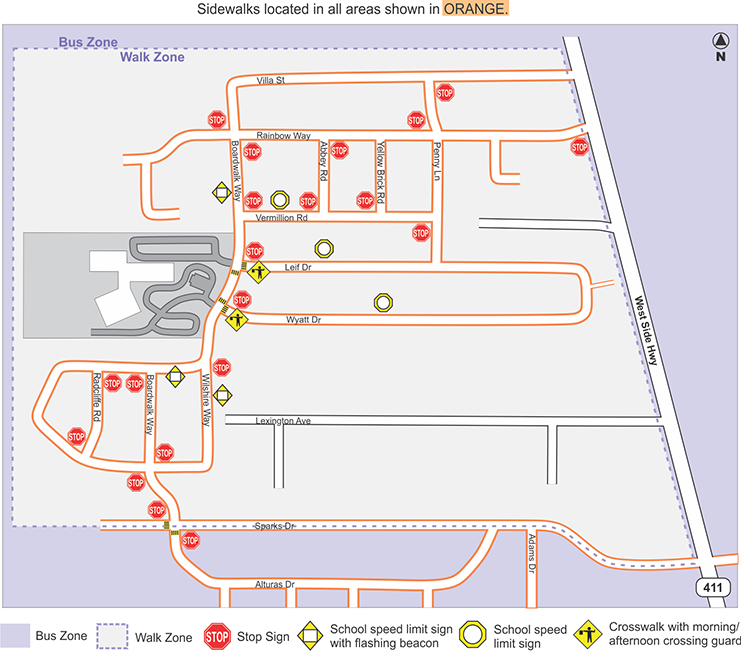 ARRIVING OR LEAVING IN CARS
Lexington Elementary School aims to minimize impacts on traffic and parking in the neighborhood. Families who must use a car to transport students to and from school are encouraged to consider carpooling and/or occasionally using an alternative transportation choice. The TMP includes specific do's and don'ts to help drivers be respectful neighbors and to ensure the safety of all students, staff and visitors who walk, bike, drive, and take the bus to and from school.
Family vehicles also have a designated route for arriving or leaving the school site using Sparks Drive, to prioritize safety and minimize any conflicts among modes. The route is shown below.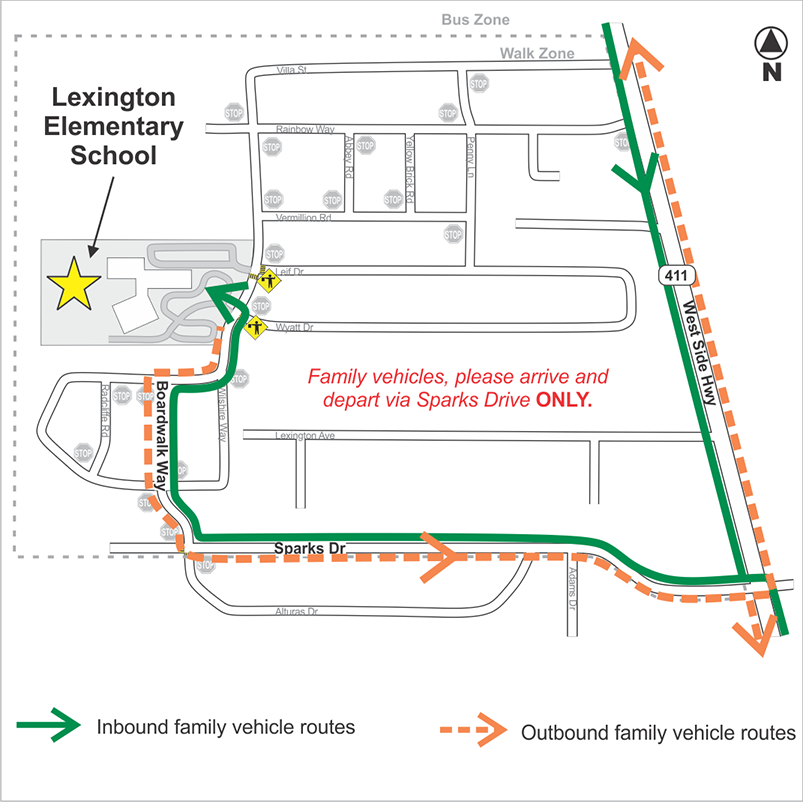 Transportation options and choices often change to accommodate what is happening in life. When families are able, choosing a non-driving mode or a high-occupancy driving mode even one day per week helps reduce school traffic congestion. As a family, knowing and being comfortable with multiple ways of getting to and from school can also provide flexibility when plans change unexpectedly. Families can create flexibility and community through multi-mode travel choices, such as:
• Forming a walking school bus to get safely to the school bus stop
• Forming a bicycle train to get to a carpool ride
• Carpooling to a safe walking point
PARKING AND SPECIAL EVENTS
When large events are held on campus, parking will be at a premium, and the TMP describes some strategies the school may use to accommodate expected attendance. If a specific event requires special parking and transportation arrangements, such as a shuttle or off-site parking availability, to accommodate expected attendance, the school will communicate those options in advance. For all events, those who live close enough to walk are encouraged to do so. Those who need to drive and park are directed to areas where event parking is allowed to occur, as shown below.
The dates of events anticipated to draw large numbers of attendees will be made available prior to the start of the school year, or communicated as as soon as possible, if they are scheduled after the school year starts.