EDIT MAIN
WHAT IS WORLD LANGUAGE TESTING?
Students who speak, read, and write a language other than English can earn world language credits in high school and college by demonstrating proficiency. Students who demonstrate proficiency on nationally recognized proficiency assessments may be able to receive competency credits on their high school transcript.
WORLD LANGUAGE TESTING VIDEOS
Watch the video here. Translated videos are found here.
STUDENTS – ARE YOU ELIGIBLE?
World Language Flyer… Click HERE to learn more!
FOLLOW THE 3 STEPS TO EARNING 1-5 WORLD LANGUAGE CREDITS
| | |
| --- | --- |
| | Click HERE to determine if you are eligible? |
| | Take a Practice Test HERE! |
| | Learn how to get credit HERE! |
EARN THE SEAL OF BILITERACY!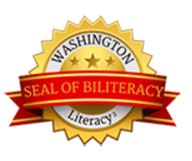 The Washington State Seal of Biliteracy recognizes public high school graduates who have attained a high level of proficiency in speaking, reading, and writing in one or more world languages in addition to English. "Participating school districts with students eligible to receive the Seal, shall place a notation on a student's high school diploma and high school transcript indicating that the student has earned the seal."
Why try to earn a Seal of Biliteracy?
Over 40 percent of Washington State jobs are tied to international trade, so it is critical for students to develop proficiency in English and other languages to maintain competitiveness. The bilingual skills of students for whom English is not a first or dominant language represent a tremendous potential resource to the state. Also, English students who follow long sequences of world language study and practice increase their marketability in the workplace. In addition to career advantages, studies also show numerous cognitive benefits for students learning more than one language, including enhanced working memory, attention, flexibility and creative thinking. All of these attributes will be valuable in students' futures.