BOUNDARY REVIEW RECOMMENDATION
The School Boundary Review Committee (BRC) was established in the Fall of 2019 to review elementary school boundaries. The necessity of this work stems from the addition of two new elementary schools being constructed for Wallace and Lexington Elementary Schools. Lexington Elementary School, scheduled to open in Fall 2021, will combine to house approximately the same number of students currently at Beacon Hill and Catlin Elementary students. Currently, Kelso School District has seven (7) elementary schools, which will drop to six (6) following new construction. The BRC's task is to recommend to the School Board boundary changes to accommodate the new construction.
If you are interested in providing the Kelso School District with input regarding the proposed changes, please take our survey during the period of March 10 - April 10, 2020. The recommendation information is below.
Board Workshop - March 9, 2020 at Coweeman Middle School, 4:30 - 6 p.m.
Community/Staff Survey Online, March 10 - April 10, 2020
Open House to Review Plans at Kelso High School Commons, April 16, 2020, 6 - 8 p.m.
Public Hearing at Catlin Elementary, April 27, 2020, 6 p.m.
School Boundary Board Action @ Beacon Hill Elementary, May 11, 2020, 6 p.m.
ELEMENTARY ATTENDANCE BOUNDARY RECOMMENDATION (Starting Fall 2021)
The School Boundary Review Committee (BRC) has now completed its study and analysis of school attendance boundaries. After careful consideration, the committee has recommended to the Superintendent and School Board its proposal to modify a few elementary boundaries. Impacted schools include Barnes, Beacon Hill, and Barnes Elementary Schools.
Middle School and High School Boundaries will remain the same. Elementary feeder schools will stay the same (Coweeman-Butler, Carrolls, Rose Valley, and Wallace. Huntington-Barnes and Lexington).
CURRENT ELEMENTARY ATTENDANCE BOUNDARIES
Below is the current elementary attendance boundary that will remain in effect through the 2020/21 school year. Click here for Map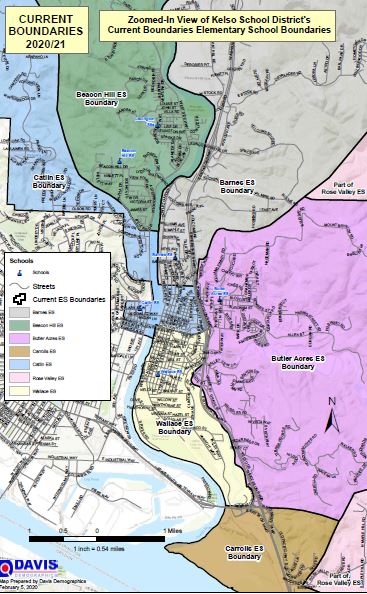 PROPOSED ELEMENTARY BOUNDARY (Beginning Fall 2021)
Below is the proposed elementary attendance boundary that will go in effect for the 2021/22 school year, pending School Board approval in Spring 2020. Click here for Map
NEW LEXINGTON ELEMENTARY BOUNDARY DESCRIPTION

All areas West of the Cowlitz River, including the Pleasant Hill, Headquarters, Ostrander, and Holcomb Acres areas East of the Cowlitz River.

NEW BARNES ELEMENTARY BOUNDARY DESCRIPTION

Area East of the Cowlitz River between Rocky Point to the North, Allen Street to the South, and Interstate 5 to the East.

NO CHANGES PROPOSED FOR BUTLER ACRES, CARROLLS, ROSE VALLEY AND WALLACE ELEMENTARY SCHOOL BOUNDARIES

NO CHANGE TO MIDDLE SCHOOL BOUNDARIES AND ELEMENTARY FEEDER SCHOOLS INTO MIDDLE SCHOOL
PROPOSED ELEMENTARY BOUNDARY ZOOMED IN (Beginning Fall 2021)
Below is a zoomed-in version of the proposed elementary attendance boundary changes. Click here for Map