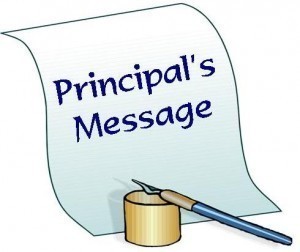 March "From the Principal's Desk"
Brenda Sargent
Monday, January 06, 2020
From the Principal's Desk…

"Starting strong is good, finishing strong is epic." ~Robin Sharma
"Doing the best in this moment puts you in the best place for the next moment." ~Oprah Winfrey

Spring is known for new beginnings and with third trimester just around the corner there's no better time to think about what is still to come. Throughout my nearly 25 years in education I have learned a few things that seem to hold true year after year.
For our freshman, they are starting to feel like they finally "get" high school and may just now be figuring out what it takes to be successful in the classroom. If this sounds familiar, and you have been battling your teenager around attendance and grades, I'm here to assure you IT'S NOT TOO LATE! Your student can still get back on track and have success from here on out. Encourage them to reach out to teachers if they need help, stay engaged in their new classes, and spend their days learning, not just existing at KHS.
Our sophomores and juniors are looking forward to the next school year and making plans for what needs to happen now, so they can find success in the fall. For some this may be running for club, class or ASB office or trying out for cheer; while for others it's arranging community service hours to fulfill their graduation requirement. Every minute you can spare to talk to your student about their future will help them keep that future in focus—you are their first and best supporter. If your student is interested in school leadership direct them to visit with Mrs. Thomas in D-2.
Finally, seniors are coming to the end of their time with us which may surface new feelings ranging from excitement to anxiety as they think about what happens after June 6th, 2020. This can be a scary time for newly minted adults, who now more than ever, need reassurance and support from their families. If your senior doesn't have a plan for "what's next" reach out to our Career Center and partner with us to help them find direction for a bright and independent future.
Senior parents be on the lookout for the 2020 Senior Letter which outlines our last trimester expectations and important dates for all seniors.

Sincerely,
Christine McDaniel, Principal, Kelso High School
Kelso High School
March 2020